Have you ever walked through an open house or a showing and seen a uniquely odd, custom feature to a home that made you scratch your head? Although the homes we list are some of the most beautiful properties we've ever seen, we have still seen our fair share of atypical custom additions. With this in mind, we thought it'd be fun to take a departure from the pristine luxury homes we typically present, to venture through some of the most eccentric and sometimes, flat out bizarre, architecturally designed homes across America. These unique homes are truly one of a kind!

Smith Mansion – Cody, Wyoming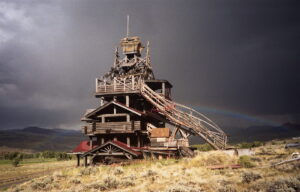 Located in the beautiful Wapiti Valley, Smith Mansion is the former home of builder and engineer Lee Smith, who became enthralled with his building project after starting to build a home for his wife and children using locally gathered logs and wood. After completing the base of the home, he got inspired and continued to add on extra floors and balconies. Fed up with how much time and energy he was putting into the construction of the house, Smith's wife divorced him. This, however, only fueled him to keep adding more layers of staircases and scenic terraces. Tragically, Smith fell to his death while working on one of the upper balconies. The Smith Mansion has since sat empty, collecting myths and legends about ghosts and madmen. However, Smith's daughter, Sunny Smith Larsen, has begun a preservation campaign for the site in hopes of keeping her father's creation from being destroyed.


Sculptured House – Golden, Colorado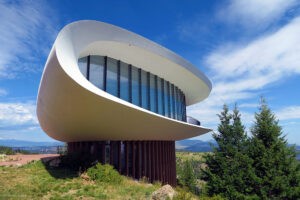 Sitting on the top of Genessee Mountain, the Sculptured House was built in 1963 by architect Charles Deaton and is often called "the Flying Saucer House" or "the Spaceship House." The futuristic, modern movement style home has appeared in a number of movies, TV shows, and photoshoots. It was most famously featured in Woody Allen's science-fiction comedy, Sleeper. Deaton ran out of money while working on the home, so the interior is less interesting than the exterior. It remained unlived in until 1999 when the home was purchased by entrepreneur John Huggins, who worked alongside Deaton's daughter to finish the interior. Today, the house is not lived in, however, hosts private events on occasion.


House on the Rock – Spring Green, Wisconsin

During the 1940s, a man named Alex Jordan decided to build a house on Deer Shelter Rock, a sandstone formation within the scenic Wyoming Valley, after discovering a 60-foot chimney of rock. Jordan built the house as a weekend retreat, never intending it to be a tourist attraction. Peoples' curiosity peaked as they caught wind of his construction and began visiting in order to see this architectural innovation. However, people kept coming to see the architectural wonder they had heard about. What started as a 14-room house, has turned into a complex of many buildings, exhibits and garden displays. It is said it can talk multiple hours to walk through the entire property, and there is so much to see, it can't be done in one day. In December of 1988, Alex sold The House on the Rock to longtime associate Art Donaldson, a collector and a businessman, who continues to build on Alex's dream of expanding and entertaining visitors from all over the world.

The Mushroom House – Perinton, NY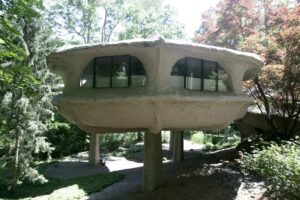 Located in the town of Perinton, NY, The Mushroom House (also called The Pod House) is a retro-modern designed home, which was fashioned after Queen Anne's Lace. The notable design has been featured on TV and in books due to its whimsical appearance. The house was constructed for attorney-artist couple Robert and Marguerite Antell between 1969 and 1972 and was designated a town landmark in 1989. The unique structure sits in a wooded ravine adjacent to Powder Mills Park. The unusual design of the house features four 80-ton pods which rest on reinforced concrete stems. The larger pods spread out into smaller pods, which serve as the typical living spaces. With the exterior of the home being made of concrete, it is very soundproof. This one of a kind property is actually available for rent for $6,000/mo if it happens to call to you!


The Pavilion/Mushroom House – La Jolla, California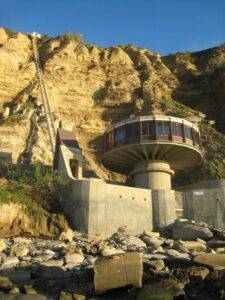 Located within the cliffs of Black's Beach, this uniquely shaped home was designed and built in the 1960s by architect Dal Naegle for General Mills heir Sam Bell to serve as the guest home to the main house that is located at the top of the beach's cliff. A 300-foot tram running down the side of the cliffs links the two properties. Originally called the Pavilion, the structure was built to withstand not only naturally occurring rock slides, earthquakes and waves, but also teenagers! It was purposely built on a remote section of the beach so as to avoid any disruptions. Now, more commonly coined The Mushroom House, the house was last said to be owned by UC San Diego, for use as a place for professors and administrators to take a sabbatical.


Flintstone House – Hillsborough, California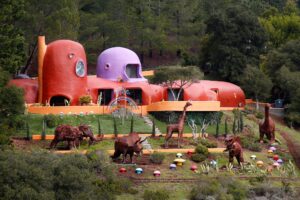 In 1976, the Bay Area architect William Nicholson built this unique 2,700-square-foot home using a building technique known as monolithic dome construction. Throughout the years, the home was updated a bit, with the exterior ultimately painted red, purple and orange. This led to it being dubbed "The Flintstone House" after the famous cartoon. The new owner has gone even further, as after purchasing the house for $2.8 million in 2017, Florence Fang decided to install 15-foot dinosaur statues; a giant metal woolly mammoth and giraffe; a garden of colorful, oversize mushrooms; and a rainbow and peacock sculpture. She has now found herself in a legal battle with the town of Hillsborough, who wants her to remove the animal statues, as they pose as 'eyesores'. I guess her neighbors think it's a "Yabba-dabba-DON'T".

What do you think? Do you find these properties creatively cool or gratuitously obscure? While we assume most of you out there aren't actively looking for a mushroom house or a property replicating your favorite cartoon, we do know everyone has their individualized needs and desires when it comes to buying a home. We are confident that we can find the perfect marriage of your unique tastes and what the current market offers to place you in your own unique home. If you're looking to buy or sell, we'll hope you'll think of us!