By the summer of 2020, about 40% of Americans were working full-time from home. American companies' response to the COVID crisis has supercharged the upward trend of more and more jobs being performed remotely, in an increasingly digital economy.
Countless businesses have transitioned their teams to remote work or "work from home," with many having decided that they'll keep it that way in perpetuity.
Whether you've just started working from home or you've been a remote worker for years, there are special considerations for you to take into account when buying a home in San Diego. We can clearly see these market shifts in the latest real estate trends like Zoom rooms and dedicated home-office spaces.
In this article, we'll share 8 tips on choosing the perfect house where you can work remotely in perfect peace and comfort.
1. Incorporate Your Own Work Style
There are a lot of benefits of remote jobs, but it can take some getting used to if you're new to it. When deciding on a home to buy as a remote worker, you'll want to take into consideration your routine, your preferred style and setting for work, and how those factors might impact the type of house you're looking for.
Do you need absolute silence to be able to focus on your work, or is some sign of life — background noise and activity — actually helpful to your creativity and flow? Do you miss the unplanned social interactions of the office, or do you revel in the solitude of your new work-from-home setup?
Be honest with yourself about what works for you and what doesn't. While you're working, take breaks to consider what is going well and what could be improved. Buying a new house is your chance to make changes and improvements to benefit both your productivity and your well-being.
2. Consider Your Other Household Members' Schedules
Since the start of the COVID pandemic, a lot more people are working and studying from home than ever before, including kids! Will you have the whole house to yourself throughout your work-from-home workday? Chances are, maybe not!
Take some time to think about what the other members of your household are up to and what their schedules are like. If your spouse still works out of the house and plans on doing so for quite some time, you might prefer to work from a desk in the living room or at the kitchen table, rather than try to create two separate office spaces. Or maybe you can share an office together! Maybe you value a bigger yard for after-work relaxation more than a whole bedroom dedicated to work.
If your spouse works from home and your kids are attending virtual school from home too, you will probably place a premium on having your own separate workspace. Distractions are the bane of productivity, and having the whole family at home with no personal workspace is a recipe for constant distraction.
3. Think About the Equipment and Spaces You'll Need
Depending on your line of work, you might need a rather large office or just a simple desk to work at with your laptop. Do you need a printer? A big all-in-one scanner/fax/printer/espresso machine? Do you need a massive desk to spread blueprints or documents or sketches, or just a little area to place your MacBook?
It's important to figure this out before you make an offer on your dream house, because you're going to want to make sure you have the space you need for your ideal home office setup. Most Americans spent at least as much time working as they do anything else, so a comfortable and efficient workspace is nothing to skimp on.
Throughout the COVID era, home tours and open houses have largely moved online. More than ever before, listings are able to be viewed virtually via 3D home tours. A 3D tour is a perfect opportunity to scope out and plan your potential home office setup, before you invest more time in discussing the property with your agent and scheduling an in-person tour. Check out this article for more info on the benefits of virtual home tours.
4. Consider the Layout of the House
If you have family members or roommates who are also working from home, you might want a house that has an office space with some distance from the busy common areas. When lunch is being made, or the kids are on a break, things can get noisy fast!
Having your workspace right next to the kitchen or living room or nursery is likely to be a recipe for disrupted Zoom calls and derailed trains of thought. If available, explore 3D home tours, floor plans and photos, to see where you might end up working relative to where distractions will happen in the house you are considering to buy.
5. Think About Outdoor Space
When you work from home, it's more important than ever to get some air and change your environment from time to time. Even if having your own backyard wasn't important to you in the past, you might want to reconsider that when you're working from home. It's amazing what a change of scenery can do for recuperating after a long day's work, or even just stepping outside for a five-minute break and a breath of fresh air.
6. Consider Where You Want Your House to Be Located
Should you get a condo? A house outside of town? Something right in the center of all the action? These are questions that every prospective home buyer should ask, but they are even more important for those who will work from home.
There are pros and cons to all of these options. If street noise is going to drive you crazy when you're working from home, you'll probably want to buy a single-family home with a bit of yard space on a secluded street. If the sound of activity helps motivate you, consider looking for a spot right in the city. Or maybe these factors don't matter much to you; there are many other considerations to make when buying a home. Decide what matters most to you and your lifestyle!
Also, if you have friends and family living in a certain North County San Diego area, you might choose to prioritize that neighborhood over others. Working from home can sometimes feel lonely or isolating, and you'll be more likely to interact with your friends and family if they live nearby.
7. Consider Your Commute if You Sometimes Travel to Work
Just because you work from home doesn't mean you won't have to go into the office occasionally. While it's great that your home's location doesn't have to be dictated by where your office is, you still might not want to create a brutal commute for yourself when you go in for your weekly meeting.
8. Figure Out How Many Rooms You'll Realistically Need
Lots of people right now are dealing with cramped remote-work conditions because they've been forced to create workspaces in small spaces. Since you're in the market for a new house, you're fortunate to be able to choose your home based upon your needs.
If both you and your spouse are working from home, it's highly advisable that you each have dedicated workspaces. If you have children who are distance learning or studying for college, you'll want to make sure they have enough space too. This is your chance to find a home that works for everyone in your household. Make the most of it!
Working From Home in San Diego: Find Your Perfect House and Office!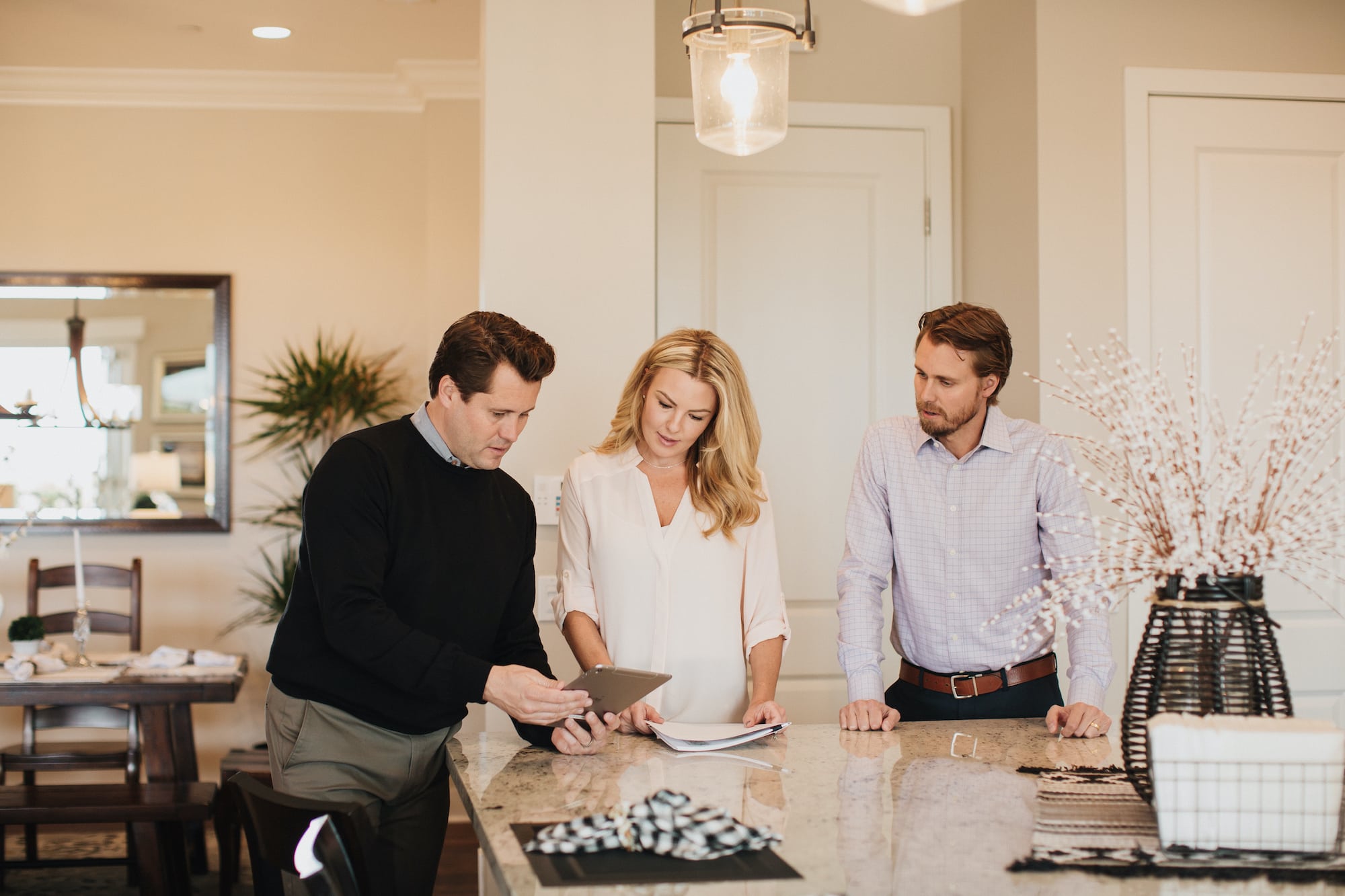 Is it time for you to find your perfect home in North County San Diego? At Caspersen Brothers & Associates, we'll help you find exactly what you're looking for. Start the no-pressure conversation and contact us today!