Whether you're looking to buy your dream North County luxury home, spruce up your North County luxury home for sale, or just browse what's happening in North County luxury real estate, the new year brings some interesting trends in both form and function.
Some North County luxury homes feature out-of-this-world amenities like a movie theater, full gym and spa, or a vast wine cellar. However, adding a touch of luxury to your home doesn't necessarily mean multi-million-dollar renovations. By reimagining a room with the latest in fine fixtures and finishes, you can add value and style to your existing residence at a relatively low cost.
In this article, we'll explore some of the latest in luxury home design trends for 2020. Starting with…
Steam Showers
A steam shower is two parts: first, the steam generator which heats water to produce the steam; and second, an enclosed shower stall which traps the steam inside. With the press of a button in your shower stall, the steam generator is activated to quickly heat water to a safe and comfortable temperature. The resulting steam is channeled through your shower system to fill the enclosed stall, resulting in a soothing and luxurious shower experience!
Installing a steam shower provides luxurious, high-end features and even health benefits to your North County home. Steam can clear stuffy nasal passages, soften your skin before a shave, open your pores, increase circulation and lower blood pressure. With adjustable digital controls for timing, temperature, and even music or scents, the modern steam shower is highly customizable. Additionally, steam showers are quite water-efficient and only use about 2 gallons of water for a 20-minute shower.
Designer Wallpaper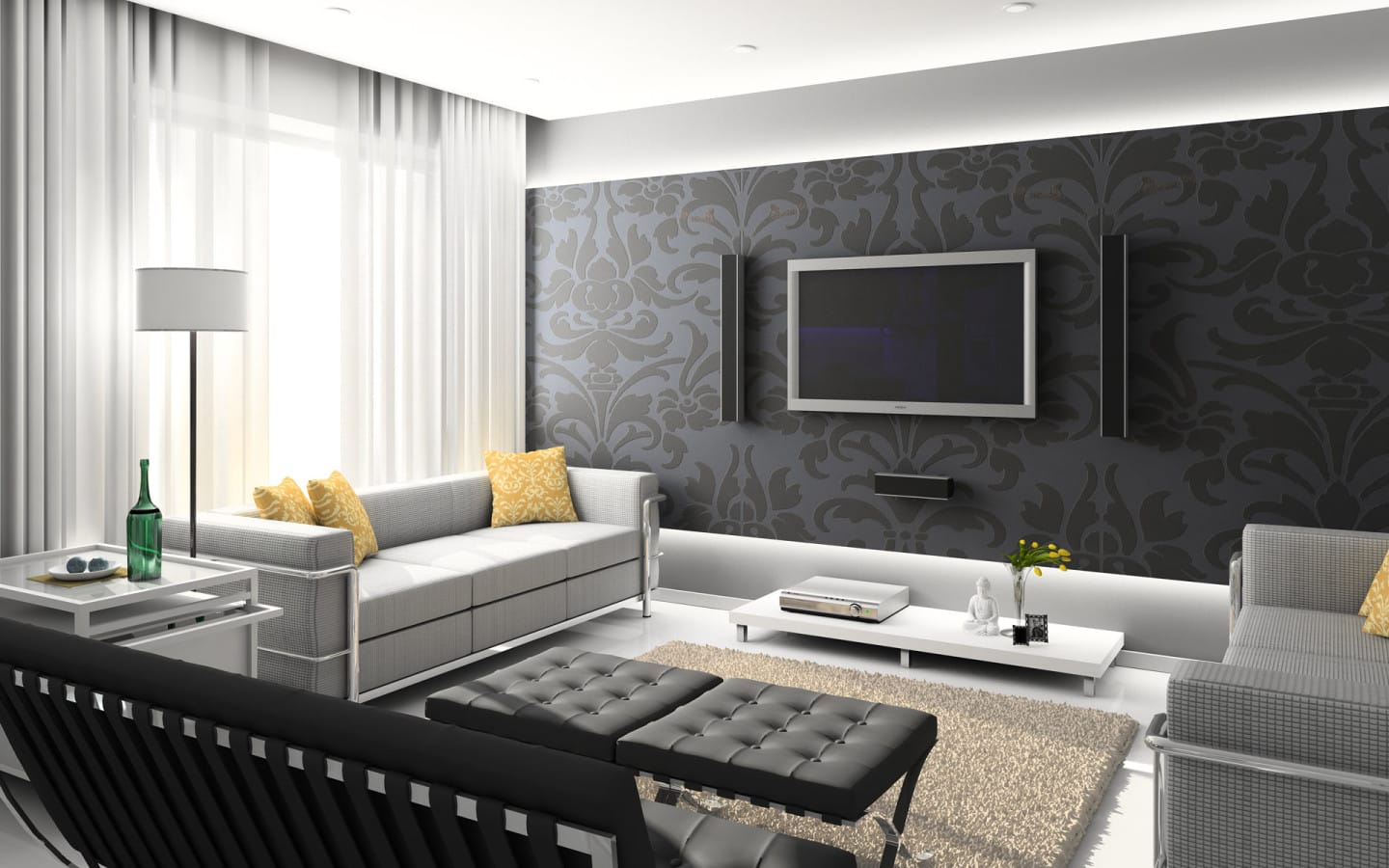 Through the years, wallpaper has gotten a bad rap. Now it's back with a stylish vengeance. Gone are the days of tawdry, stuffy designs once smattered over your Grandma's kitchen walls. There's a whole new industry of luxurious, fashion-forward wallpaper designs. For relatively little cost, you can redo a room or add a feature wall to spruce up your North County real estate.
With so many designers out there, who should you choose? If you're interested in designer wallpaper, take some time to explore all the options. You'll find hundreds and thousands of designs with a quick Google search, with many options easily available from online retailers like Houzz or big box stores like Home Depot.
Wine Fridges
Nothing says luxury like a great selection of fine wines. Of course, any growing collection will require storage. Some North County luxury homes feature vast wine stockpiles, from spacious cellars of rich mahogany or chic glass displays with LED lighting. But since adding a full new wine cellar to your home is no small task, the next best thing is a dedicated wine fridge! It's a luxurious solution to keep your cache of spicy reds and oaky whites in top shape.
A refrigerated wine cooler is the perfect way to ensure your wines are stored properly. Both built-in and free-standing units are available, ranging from just over $200 to $10,000 and beyond. A wine fridge is convenient, luxurious, and sure to impress your guests. When the time comes to sell your North County home, don't forget to specify whether you will take the unit with you or include it in the sale.
Outdoor Kitchens
If you keep an eye on the luxury market, you've likely noticed a trend towards "indoor-outdoor" living. Many North County luxury homes feature large glass panels and sliding doors which serve to seamlessly blend exterior space with the interior. With more and more value placed on functional exterior space, why not make the ultimate upgrade and create an outdoor kitchen?
There are not many ways to better enjoy your backyard than cooking and lounging on a beautiful patio. High-end outdoor kitchens often include full installations of cabinetry, cooktop, grill and wet bar. Even if you're not looking to drop tens of thousands on exterior improvements, installing a built-in grill with counter space can make a big difference towards entertaining friends and family.
Smart Features
Most North County homes these days have at least one or two smart devices. Maybe you wake up to Amazon's Alexa playing your favorite song, or maybe you ask your Google Assistant to hit the lights when you hop into bed. In recent years, the Internet of Things has grown to include so many more appliances, you can now upgrade your home with a full suite of smart devices.
The modern smart home allows for easy control of temperature, lighting, security, entertainment, and more. From door locks to wifi to Spotify playlists, much of your daily life can now be smart-equipped for voice control and automation. Not to mention, you can do it all from thousands of miles away (if you so require). We think that luxury means more than extravagant adornments. It means functional ease and convenience. By that definition, outfitting your home with smart-controlled systems is the ultimate in modern luxury living.
North County Luxury Homes
As your trusted North County real estate experts, it's our goal to provide guidance, insight, and understanding for anything real estate related. Whether you're looking to buy a North County San Diego home, sell a North County home, or you're happy with the North County home you're in, we hope these friendly articles offer you some insight into the world of North County real estate.
For more information about the North County real estate services we offer, reach out to start the no-pressure conversation. We are always happy to lend our expertise to explore your options.