Attending another Zoom party this weekend – why not celebrate with your own Zoom party appetizers? Dip, taste, snack, and savor delicious bites while you catch up with friends, family, and coworkers.
No matter what the occasion, appetizers can make everything better. Not sure where to start?
Check out these 5 fun appetizers you can make at home quickly!
1. Caprese Skewers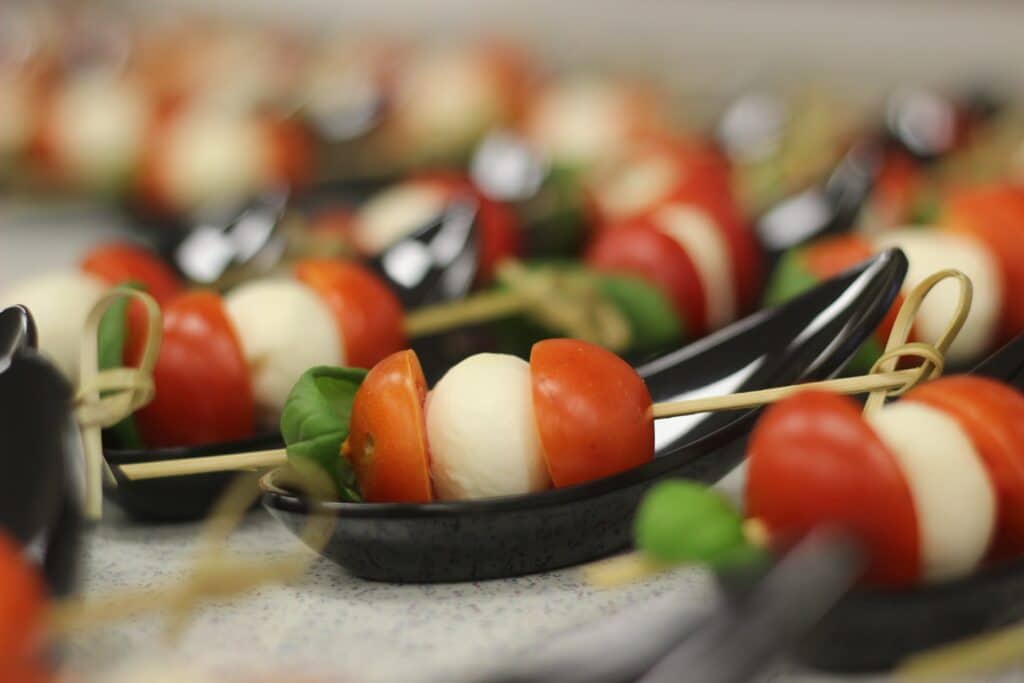 All you'll need for this simple appetizer is cherry tomatoes, fresh basil, mozzarella cheese, balsamic glaze, and wooden skewers. Assemble the skewers starting with tomato, then basil, then mozzarella cheese – and repeat. When you're done top it off with a drizzle of balsamic.
This is sure to be one of your new go-to Zoom party appetizers!
2. Hot Crab and Artichoke Dip
This ooey, gooey dip is at the top of the easy appetizers list because it's delicious and simple. Whether it's a New Year's Eve bash or a Friday happy hour, this appetizer will not disappoint. Here's what to do:
Preheat oven to 350 degrees
Microwave 2 ounces of cream cheese for 20 seconds and spread into bottom of a one-quart dish
In a bowl, add 1/4 cup mayonnaise, 2 finely chopped scallions, and 3/4 teaspoon Worcestershire sauce (hot sauce optional)
Add 1/2 cup shredded artichoke hearts, 4 ounces crabmeat, 1 ounce of mozzarella, and 2 ounces of parmesan cheese
Stir all your ingredients together and top with a little more parmesan cheese
Bake for about 25 minutes until cheese is bubbly
Consider adding a squeeze of lemon juice for added freshness. You can serve this dip with veggies, crackers, or bread.
3. Easy Focaccia Bread
Everyone knows that the best Zoom party has carbs! Try this easy focaccia bread for your next Zoom event. You will need:
1 loaf (1 pound) frozen bread dough, thawed
1/2 cup sliced pimiento-stuffed olives
1/2 cup shredded Colby-Monterey Jack cheese
1/2 cup shredded Parmesan cheese
1 teaspoon Italian seasoning
2 tablespoons olive oil
Preheat oven to 350 degrees. On an ungreased baking sheet, pat dough into a rectangle. Top with olives, cheeses, and Italian seasoning. Drizzle with oil. Bake for 15-20 minutes and enjoy!
4. Mango Salsa
Looking for a light and refreshing appetizer? How about a mango salsa served with tortilla chips? Slice up 1/2 red onion, 1 mango, 1 bunch of cilantro, and 1 jalapeno (seeded). Add a generous squeeze of lime juice and add salt and pepper to taste. 
That's it! Stir it all up, chill it, and serve. This a perfect Zoom party appetizer for those hot California days and nights!
5. Festive Goat Cheese Log
Don't have much time to sort through zoom party ideas? This is the appetizer to make. All you need to do is crush up about 3/4 cup of pistachios and chop up 1/2 cup of dried cranberries. Take a log of goat cheese and roll in the pistachio and dried cranberry mixture.
Serve with crunchy crackers. This is a great year-round recipe but is especially festive for the holiday season.
Have an Unforgettable Zoom Party Menu
Try these simple appetizers for your next Zoom party. Just because you're at home doesn't mean you have to miss out on the chance to eat delicious food and socialize!
It's been a challenging year – treat yourself to these tasty bites of food. And if you are looking to buy a new home this year or sell your current home, we can help! Connect with us today.